IDbyDNA is revolutionizing the use of clinical metagenomics to empower healthcare providers with tools to accelerate triage and treatment for improved public health.
Open Booth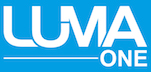 leaders in the art of video-based enablement and the science of achieving results. LumaOne makes it possible to create, distribute, facilitate change and accelerate to consistently high performance.
Open Booth

Innovation Ventures plays a key role in improved clinical care for children. Protecting innovations through patents; assist in further developing technologies through commercially-driven funding and research partnerships; and deliver products to the market through licensing and the creation of start-up companies.
Open Booth